Today I'm going to be talking to you about Mastering ROI, or the return on your investment.  Mastering ROI, whether it's your time, your money, or your resources, is essential to making informed decisions that drive your business forward.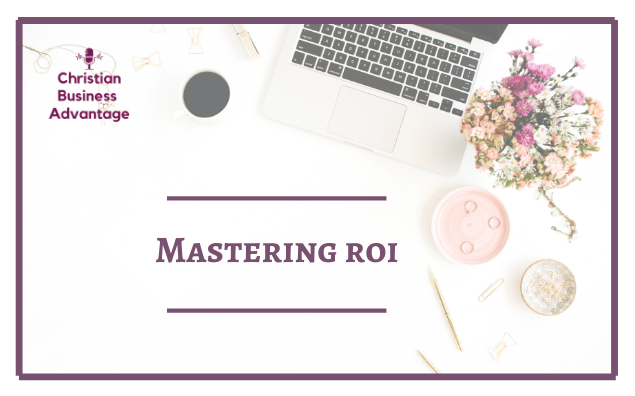 What is ROI?
Let's start with ROI. Why is it important to your business's success? At its core, ROI is a powerful tool that can help you measure the effectiveness and profitability of your investments. These investments can be in the form of time, money, or resources, and it's not just about crunching numbers. It's about making informed decisions that can drive your business forward. 
In its simplest form, ROI is a ratio that shows how much you gain relative to what you invest. Think of it as a way to quantify the return you get from the resources you're pouring into your business. It's crucial because it can guide you to help you make decisions that you're facing, and it provides you with some insight into what's paying off and what might need a second look. 
It's not just about profits, it's about optimizing your time, your money, and your resources. So you need to understand ROI and make informed decisions. Should you invest in a marketing campaign? Or pivot your efforts that might need improvement? It empowers you to allocate your resources and maximize your chances of success. Unfortunately, if you've ever tried to calculate your ROI, it's not a one size fits all metric. It's kind of hard to determine sometimes because it's not just about finances; it's about the impact of your time, whether or not to hire a team, and overall what your goals are. 
Time and Resources
It's more than a financial metric; it's a guiding star, and so you have to think about all the different pieces of ROI. So let's break it down. There are different forms of investment. You can and  want to invest your time in your business in the things that you are really strong at and good at. Then there is the investment of money. Obviously, this is going to be a hard stop for most of us because the majority of us only have so much to invest. We don't have an unlimited supply of money. Then, of course, your resources Resources can be many different things. For instance, the tools you may need, money, time, people that you know, equipment that you have, or technology. Sometimes you have to invest money in these resources, but it may pay off more in the end.
For example, I have recently started using a specific resource that is costing me a small amount of money each month. But it is paying off in terms of the return on my investment because it is saving me so much time. This particular resource takes my short form videos (like reels) that I create and posts them to every platform that I want to post on. This means I'm able to use the time I save on something else. 
You might have the right tools that you need to make products, offer services, and grow your business. Investing in a resource means putting effort and money into things that make your business better. Things like Repurpose.IO, which is the tool I am currently using, allow you to hire team members, use modern technology, and find different ways to promote yourself. Smartly using resources helps your business become stronger and more successful. 
Now that we've discussed time and the investment of resources, Let's talk about investing money. 
Money
Sometimes investing money means hiring help, purchasing tools such as Repurpose.IO, or other tools. Sometimes it means paying for marketing campaigns or hiring someone to format your book or Ebook. There are so many different things you can invest your money in. So you have to take a step back and decide, what am I going to invest my time, money and resources in. You have to set aside time to figure this out. 
You have to have a budget in place so you know if you are going to have the money for different resources. You have to decide how much time you are going to invest in marketing your business versus how much money you're going to spend to market it. 
There are so many different areas of your business where you can measure your return on investment, whether that be time, money, or resources. 
I hope that helps you get your wheels turning just a little bit about what you need to invest in when it comes to your business and whether you need to save time, money, or resources. 
If you need help in the areas of email marketing, social media marketing, content repurposing, or your website, I would love to help you. Let's do a strategy call. You can choose between a free 20 minute call or an hour long call for a small investment. 
Visit  https://alyssaavantandcompany.com/all-services/ for more information. 
If you haven't joined me in our Facebook group, The Christian Business Advantage Facebook group, it is a great place to connect with other authors, speakers, and coaches.