Today we are going to be talking about ways to create a schedule for your business. In the past few posts, I have been talking a lot about burnout, avoiding burnout, and getting help. But you are the only person who can decide your schedule and stick to it as a business owner. And yes, if you are an author, speaker, or coach, which is my target audience, then you are a business owner.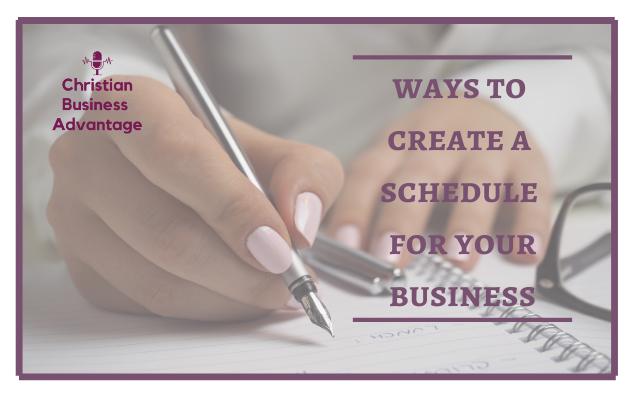 Being an author is a business; being a speaker is a business; and obviously, being a coach is a business; it's owning a business. There are several ways I have found over the years that are helpful for structuring your day and creating a schedule for your business. 
Schedule vs. Routine
First, I want to discuss the difference between a schedule and a routine. So this post could also easily be titled, "Creating a Routine for Your Business." You're either going to do one or the other; you're not going to do both. The difference between a schedule and a routine is that a schedule has time frames. For example, if you start work at nine a.m., that is a schedule. An example of a routine would be that you get up every morning and do your devotion before you begin your work, but it doesn't have a specific time. It's just the order in which you do things. 
Having a schedule or routine is essential to not suffering from burnout. Because it helps give you a goal or expectation to strive for, you don't feel overwhelmed when you don't accomplish everything. I also prefer the idea of a routine over a schedule because it isn't as rigid. So choose what you feel would be best for you and stick with it.
For example, a routine is that every morning you do your devotion before you go into your office, and when you get into your office, you check your email before you do x, y, and z. Maybe you need to write as an author; maybe you need to write for thirty minutes before you check your email. Maybe as a speaker, you need to connect with or network with potential places where you may be able to speak before checking your email. 
Making important pieces of your business first and foremost can be part of your routine, which will help you to have some structure and get the important things done. There are two other ways you can do this as well: one is called time blocking, and the other is called theme days. 
Time Blocking
Time blocking is setting aside a specific time of day or a block of time to a specific task. For example we all know an important part of being a business owner is our presence on social media. Social media can be very time-consuming and overwhelming. So one of the things you can do is time block, say, 30 minutes to schedule out content, 30 minutes to write content, and 30 minutes to interact and comment on a specific platform, such as Instagram. 
You can block out time to write, work on your email sequence, or create a lead magnet. Whatever it is, carve out time blocks in 30- or 60-minute blocks to work, but then you need to make sure you take some rest time and you have some margin. 
If you've ever heard of the "Pomodoro Method," I really love this technique or method. It is essentially a time management method based on 25-minute stretches of focused work broken up by 5-minute breaks. Longer breaks, typically 15 to 30-minutes, are taken after four consecutive 25-minute blocks, and each work interval is called a Pomodoro.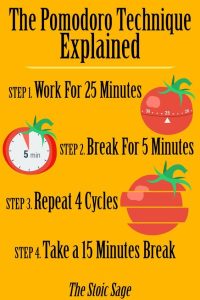 This is funny because it is actually the Italian word for tomato. If y'all are as old as me, we used to have kitchen timers that looked like a tomato and you could turn them, and they had different time frames for baking. That is where the idea of using a timer to complete your work came from. Basically, you pick a task, set your timer for 25 minutes, and then take a 5-minute break. 
I have used the Pomodoro method in the past; it is wonderful, works great with time blocking, and gives you that little reprieve of time. After you've done four Pomodoros, which is about 2 hours of time, you take a 15- to 30-minute break where you can take a walk or maybe a 15-minute power nap, but you do something away from your desk. I absolutely love the Pomodoro method. 
Theme Day
A "Theme Day" is this: on Mondays, I'm going to have what we call CEO days, and I'm going to work on my business, not in my business. I'm going to work on admin tasks—the things that we never get to. On Tuesday, I'm going to write all day or create content all day. On Wednesday, I'm going to take care of whatever it is. So each day has a theme, and each week you do the same thing on that day. 
I have never been able to tackle that method, but it is an option, and I wanted to share it with you because it works for some people. The most important thing about creating a routine or schedule that works for your business is finding what works for you. What works for me may not work for you. I want to encourage you to find what works for you. 
I do believe 100% that having a schedule or routine and knowing you have this rhythm going in your business can help you prevent burnout just as well as getting help, like we discussed last week. 
If you haven't joined me in our Facebook group, The Christian Business Advantage Facebook group, it is a great place to connect with other authors, speakers, and coaches.