Today we are going to continue our series on Email Marketing. I have still had several questions about what to include in an email and how to keep people opening your emails.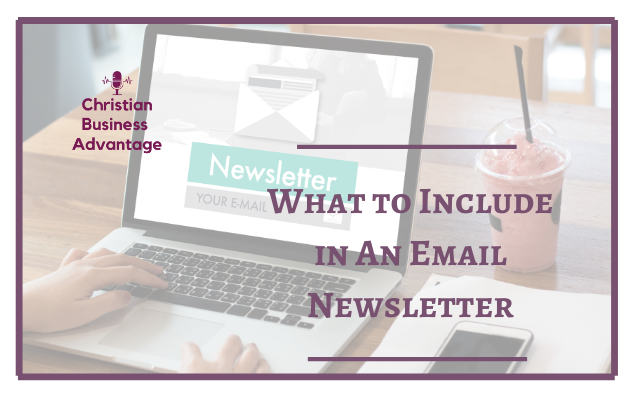 We've talked about setting up an email list, what you need to set up your email list, and the programs and tools to use. But it doesn't stop there, you have to continue to communicate and connect with your readers. So it's very important that you are able to connect with your readers as well as stay consistent with your communication. 
So today, we're going to talk about what's included in an email newsletter. 
We've talked in previous posts about a nurture sequence. A nurture sequence is a series of emails that someone gets after they sign up for your free offer. Once they have signed up for your offer, you send them a series of emails to continue that relationship. You are building a relationship through your nurture sequence. 
My free offer is called "Effective Relationship Marketing with Email," and in that I talk all about the nurture sequence.
Once your subscriber has finished the nurture sequence, they begin to receive your regular email newsletters that you send out on a consistent basis. This may be weekly, biweekly, or monthly. I recommend monthly at the very least. I personally send out a weekly newsletter to my subscribers. 
What is necessary to include in a weekly newsletter? I am going to share five things that must be included in your weekly newsletter. 
1. Attention Grabbing Subject Line
The first thing you need is an attention-grabbing subject line. Think about it. What makes you open an email that you receive in your inbox? That is a question you can ask yourself. For example, if you receive several emails and one is titled "Alyssa's Newsletter July 2023," would you be curious to open that email? Probably not. But if you get an email in your inbox titled, "How I increased my blog readers" or "How I sold 1,000 Copies of my Latest Book in a day," something that grabs your attention You can actually Google attention-grabbing email subject lines and get a list of free resources that share some of these headlines with you. I have even had people send me emails with really funny headlines. Even though it may not have been something I would normally be interested in, I wanted to open the email because of the subject line. So your goal is to grab the attention of your reader even before they open the email.
I thought I would share some emails I have recently received where the subject lines enticed me to open them just because of the subject line. The first one is, "Ready to Make a Bold Move?"
Another one that caught my attention was "12 Surprising Symptoms of Stress." Can you see how these would give you a reason to want to open the email? Some other subject lines included "Get Rid of Creativity Blocks." You know when you're blocked and can't find something to say?
There is a gal whose subject lines are always a bit outrageous, and this one was from the 4th of July; it said, "Fireworks? No, That's Burning Garbage." So you can see how she really entices you with her subject line. 
So number one is an attention-grabbing subject line. 
2. Personalize the Opener
The second thing you need in an email newsletter is to personalize the opener. In order to personalize your opener, you will need to make sure that when someone signs up for your email list, you are not only getting their email but also their name. Many times, people will just request the email because they think it makes it easier. However, to personalize the opener of your email, like "Dear…" you have to have their name. Which means when they sign up for your email list, you need to get their name. 
People like when they see their name, and it makes it more personal and makes it seem as though you are speaking directly to them. So a personal opener is the second thing to include in your email newsletter. 
3. A Personal Note
The third thing you want to include is a personal note. Obviously, when you are speaking to people on your list, we want the email to be about them. However, I like to hear a little bit about everyday life from the person who is speaking to me. I like to hear that they have a normal everyday life and that they aren't just talking about the subject they are emailing me about. 
So having a personal story or opener is important to include in your email newsletter. Once you've done all of those things—you've got them opening your email, you've personalized it, and you've told a personal story—now is the time to provide them with some value. 
4. Provide Value
Give your subscriber something they can use. You can do that by sharing a little bit of a blog post and then linking to the blog post so they can read the full post. You can share resources and links to those resources. You can share your latest podcast and include a link to the full podcast. 
Providing value is a KEY piece of your email newsletter. 
5. Strong Call to Action 
The fifth thing you want to have in every email newsletter is a strong call to action. There should be an end to the end of your email. A strong conclusion or call to action will drive home the whole purpose of the email. You want to bring it to a close and inspire them to do something. That may be to click the link to read your full blog post, or to click the link and go to the Facebook group and respond to the question you asked today, or to click the link to listen to the latest podcast. The whole point of the email is to drive them to a destination.
You don't just want them to open the email. You want them to read the email, and as a result of the email, you want them to take action.  
If you have these five things in every email newsletter, then you are on your way to creating an email newsletter that works for you and is an effective part of your online marketing strategy. 
Let's recap, the five things every email newsletter needs to have are:
1. An Attention Grabbing Subject Line,
2. Personal Opener,
3. Personal note or story;
4. Provide value; and
5. A Strong Call to Action. 
I hope that this was helpful. We are going to continue to provide more information about email marketing because there is so much we can discuss. If you have questions, please reach out and ask them. Look me up on Facebook. The Christian Business Advantage is my Facebook group and is free to join. You can join and come in and ask questions, and I might address them in a future blog post.