Today, I am sharing with you, a brief overview of Everything You Need to Build an Email List. I say that this is an overview, because I am hosting a FREE workshop in my private Facebook group on Wednesday, June 14, 2023 at 10 am with a deep dive into this topic.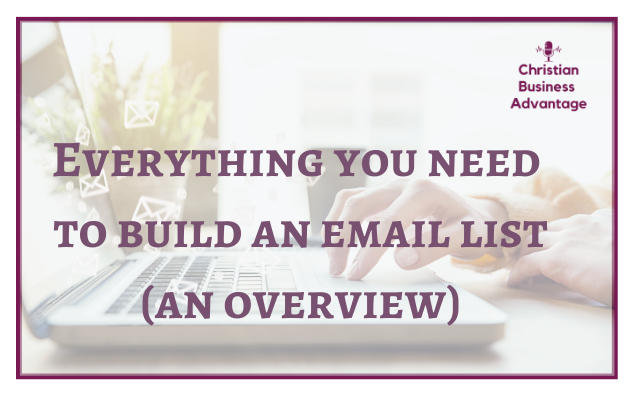 In this post I will talk about how to build an online presence through email marketing, social media marketing, content repurposing and building and maintaining your website. 
There are six pieces that you need to build an email list. This is going to be an overarching umbrella of things that you need to know. However, we will be doing a deeper dive on June 14th. 
Here are the six things you are going to want to know to build an email list.
1. Email Service Provider
When I say email service provider, I do not mean where you go to check your regular mail, like Gmail, Yahoo or Outlook. I mean you need something that will allow you to send emails to a mass group of people and have an auto responder. Some of them have CRM's attached to them, but the main thing is that you can send emails, they can sign up for your list and it is automated.  
A few of the service providers I recommend are Mailer Light, Convert Kit, and Active Campaign.  Of those three, I personally use Active Campaign and I absolutely love it, but you don't have to use what I like, you use what works for you. All three of these are great service providers and I highly recommend them. 
2. Lead Magnet / Free Offer
The second piece that you need is a lead magnet or a free offer. This is something of value that you give away for free in exchange for their name and email address. Some examples are, an ebook, a checklist, a free audio, there are tons of ways you can provide a free offer. 
I have a FREE downloadable list of  20 Freebie / Lead Magnet Ideas. I am providing these ideas, because these are your first steps to building an email list. I want to make sure you have the resources and tools that you need and a huge part of that is having a free offer or lead magnet. 
3. Build a Nurture Sequence
The next step in the process is to build a nurture sequence. A nurture sequence is a series of emails that your subscribers will receive after they sign up for your offer. The very first email in the sequence is the "Welcome Email" where you deliver the free magnet product to them. There are varying opinions on the number of emails you should have in your nurture sequence, however, the most important thing is that you are building a relationship with your email list.
The nurture sequence can help you build that relationship. It's important that you are able to nurture your list, and get to know them. So whatever number of emails you think it takes to do that, is a start. I have another freebie for you, it's a Guide: Nurturing Your List and Building Relationships that you can download. 
My nurture sequence is a series of seven emails. But those seven emails are sent out over a 32 day period. So they are not getting bombarded with back to back emails. There is a very strategic process. My emails build on each other, there is a process with a specific topic and a specific call to action.  This is important to remember, when planning out your nurture sequence. 
4. Landing Page and Thank You Page
The next piece that you  need is a Landing Page or Sign Up Page, to share a little information of the offer or lead magnet that you have. It gives them a picture of the offer so they can visualize it, and it gives them a place to sign up with their name and email address. 
It can be super simple and doesn't have to be long and drawn out.  If you download either of my free offers, you will go to my landing page to complete the offer. 
The second part of this is your Thank You page. When someone signs up, they will put in their name and email and they will immediately see a Thank You page. This page says "Thank you for signing up."  Some people place the free gift right there on the Thank You page so they can go ahead and download it. But you also have the option of a Downloads page.  
In this case, someone signs up with their email, they are redirected to the Thank You page, and it says check your email.  In the Welcome email, there will be a link to the Downloads page. Choosing whether or not to have a separate Downloads page is a personal preference. I know it sounds like a lot, but I am going to help you with this. 
5. Consistent Communication 
The fifth piece  you need is consistent communication. You need a plan for how often you plan to communicate with your email list and how you're going to continue after your nurture sequence is complete.  You could let them sign up for your lead magnet and allow them to go through your entire nurture sequence before you ever have to send them another email. Some people go ahead and place them into their regular email distribution routine before they finish the nurture sequence. This is another area, that is a personal preference. 
I send a weekly email that consists of two to three key items per email. The first is a note from me, second is a description and link to the newest podcast episode and third is usually inviting them to do something. It may be inviting them to join my Facebook group or asking them to check out my latest promotion. Sometimes, I may share a resource with them, but those are the three main focuses of my weekly emails. 
When I say consistent, I mean you need to send those emails the same day of the week, whether you are doing them weekly or monthly. I don't recommend anything less than a monthly newsletter for consistency. People will forget about you, and you cannot build a relationship with your subscribers without sending them something on a regular basis. 
6. Promotional Tools
The very last piece you need is promotional tools. You need a way to promote your free offer or lead magnet because it's not going to be a "If you build it, they will come" situation. The world as a whole, does not know about your lead magnet just because you build it. You have to share it with them. You have to share it on Facebook groups, social media, to your podcast if you have one, at the bottom of each blog post, in the signature of your email and so on.  You have to share it and it's free, so why not tell people about it. 
In order to build your email list you have to share it.  You also have to get your brand into new circles. You want to reach out and expand your circle of influence in order to successfully build your email list. 
This is just an overview of 6 ways to build your email list.  There is so much more information to discover about this topic. Come and join us for a deep dive into this topic on Wednesday, June 14, 2023 at 10 am in my Free Private Facebook group, The Christian Business Advantage.  I will also be giving away a free ebook on the same topic for those of you who prefer reading. 
 Don't forget to Download these FREE gifts to help you start thinking about building an email list: 
20 Freebie / Lead Magnet Ideas