Today I am starting a new series for the month of October, and it's kind of a little play on words, and I'm calling it "tricks and treats for marketing online." In today's post, I'm going to discuss platforms for marketing your business.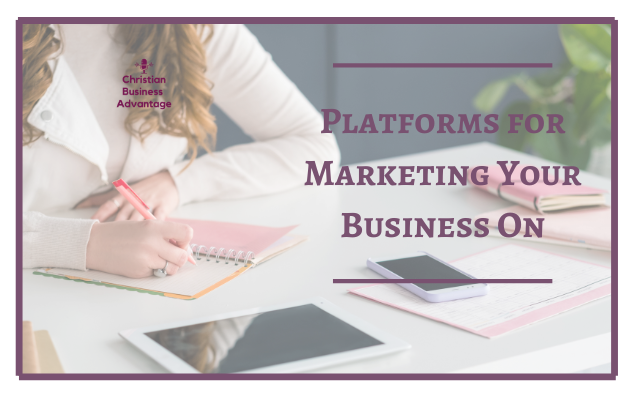 I'm going to talk about 10 different platforms. I'm going to group one set of platforms into what I'm calling social media, of course, and the next five are on their own. 
Let's start with social media platforms. There are tons of social media platforms you could be on, but let's address the fact that this podcast is for Christian authors, speakers, and coaches. Therefore, that is who I'm speaking to and the type of platforms I'm going to talk about.
These are platforms that I myself am on, in the niche of Christian authors, speakers, and coaches. I'm not as active on all of those platforms as I am on two of them. 
What we're going to focus on are the top four platforms that you can be active on, concentrating on the ones that you can be most consistent on.
So let's talk about Facebook, Instagram, and LinkedIn, and the last one is kind of controversial, and that is TikTok. I do want to share that you can utilize these platforms by repurposing your content so that you don't have to actively create content for each platform. 
Facebook and Instagram are a given; those two go together since they are part of the Meta Suite. You can create content and have it posted to both Facebook and Instagram at the same time. Then there's TikTok. First and foremost, TikTok is video content, but if you are creating video content, you can repurpose and use it on Facebook and Instagram. So you don't have to reinvent the wheel and create a whole separate set of content. 
Then, on LinkedIn, you can utilize the content you are using on Facebook and Instagram and post it there. But LinkedIn does video now, so you can create a video and post it on all four platforms. 
You need to go where your audience is spending time. That will be different for every single one of you because you have different niches and you're talking to a different group of people. So you want to see where your people are spending the most time and focus most of your efforts on that particular platform. 
So, Instagram, Facebook, TikTok, and LinkedIn are social media sites. 
Let's move on to the other five platforms, and you might say to yourself, Well, I thought those were social media platforms. The first being YouTube. YouTube is almost a search engine in itself. There are so many people who use YYouTubewhen they want to learn how to do something. They may go to Youtube and type in "How to fix my dryer." My husband and I literally Youtubed how to replace the heating element in our dryer, and we did it. 
People go to YouTube for a variety of things. "How to deal with, you know, some sort of crisis or whatever."  
Videos are very popular these days, so you can repurpose your content from TikTok and Instagram reels into Youtube shorts. So there's a whole other level of repurposing and reusing. 
Then there is Pinterest. Pinterest is another one that I would consider to be a search engine. If you're looking for something, you could go to PInterest and find what you need. Whether it be a recipe, an idea for a costume, or an event, There are so many things you can do over there. If you're looking for printables, PInterest is the way to go. You want to pin your content on Pinterest.  
The last three we're going to talk about are not in the social media category. They are different. 
Those are email marketing, podcasts, and guest blogging. So let's talk about email marketing. I have an entire series dedicated to email marketing. When you're building an email list, you are building a list of people who want to hear what you have to say. You can send regular emails to them on a weekly, monthly, or however often you email them.
Email marketing is a great way to market your business and gives you a group of individuals who are interested and have opted in to what you have to say or read what you have to say with emails. So email marketing is a platform for marketing your business. 
Podcasts. Hopefully, since you're listening to this podcast, you know how powerful they are. As an author, speaker, or coach, you can be a guest on a podcast. There are so many people out there who have interview style podcasts where people are guests on them. You can go over to their website and inquire about how to be a guest on their podcast. 
Most of them have a process for doing that and will have you fill out a form. They get to know what you're wanting to share, and you can be a guest on their podcast. It's absolutely free, and people are looking for it and want you to be a part of it. There are podcast directories and podcast networks where people are looking for what you have to offer and the message you want to share with the world. So being a podcast guest, even if you don't want to have your own podcast, is a great way to market your business. 
Finally, guest blogging Blogs are still a thing, and people need content for their blogs. Many times, you can guest on someone's website. It gives you the opportunity to share your knowledge and expertise through an article or blog post that you write. Many times they will allow you to have a byline or even a paragraph bio where you can share how to get in touch with you, a freebie, or at least a link back to follow you on social media or on your website. So that is another wonderful opportunity to market your business. 
So whether you are marketing with social media, Youtube, Pinterest,  email marketing, podcasts, or guest blogging, these are the many ways you can market your business. 
I hope that this information is helpful for you. Be sure to come back for next week's post, "batching content to share or repurpose." I mentioned repurposing when it comes to the different social media platforms, so I'm going to share with you my tricks and tips for how I do that on a regular basis for marketing my business. 
If you haven't joined me in our Facebook group, The Christian Business Advantage Facebook group, it is a great place to connect with other authors, speakers, and coaches.