Today, We are going to be talking about how you should track your goals.  In the previous posts I've had come out in the past few weeks we've been talking about goals the entire time.  I absolutely depend on goal setting in my life and business.  It helps me to feel like I have made the achievements I want to make and tracking helps me to know if I am on track to do so.
I want to share with you a few of the ways that I track my goal setting and my accomplishments, the tactics, the actions, the steps that you will take to accomplish your goals.  This will help you to see where you are each week.
Here are some of the ways to track your goals:
 Write them down!  I am always surprised when I talk with someone and they say that they have goals, but they cannot even verbalize them.
 Put them in a place where you can see them on a regular basis.  In the past, I have used a whiteboard to write my goals on, but I have also used some paper and used scrapbook paper to make it look pretty so I could display it on the wall near my desk.
 Share them with other people. This will give you a sense of accountability. Whether it be your spouse, a mastermind group or an accountability group.  Having someone to help hold you accountable will spur you on to achieve more of your goals.  They can check in with you on a regular basis and you with them.
Would you rather listen to this post?  Click Here for the Audio Version:
Check out my other posts on the topic of goal setting:
What Will Help You Set and Achieve Your Goals
Why You Should NOT Set Yearly Goals
AlyssaAvantandCompany.com is a participant in the Amazon Services LLC Associates Program, an affiliate advertising program designed to provide a means for sites to earn advertising fees by advertising and linking to Amazon.com.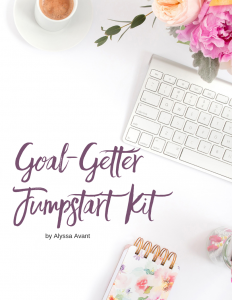 Are you a goal setter? Want to be a goal setter?  I would love for you to download this FREE Gift – – the Goal Getter Jumpstart Kit, which will guide you through my Goal setting series on my Youtube channel.