In this post I am continuing my series on, "Hiring a Virtual Assistant."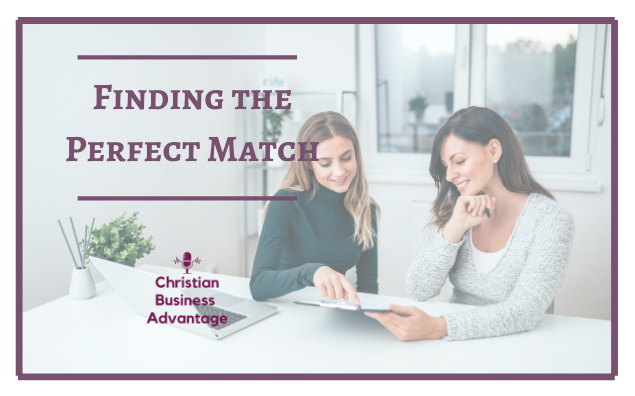 Today's topic is "Finding the Perfect Match." I know it sounds like you're dating, and in all honesty, maybe these are the same types of questions you would ask yourself if you were going on a date. 
In this post, I'm going to share four questions you should ask yourself, when trying to hire a virtual assistant and trying to determine if this is a good fit for you or not. 
What specific tasks are you looking to outsource to a virtual assistant? 
Many people don't realize that each virtual assistant has their own area of expertise or niche specific skills. Many of us are very niched in what we offer as services. There is a VA for anything imaginable out there. There are general admin VA's who handle emails, calls, and data entry, and there are VA's who are very specialized in a specific area, such as podcasting. There are all types of VA's out there. 
I have offered training for women who want to be Virtual Assistants since 2010. I have trained VA's with a focus on building their businesses, and many of them have chosen a variety of niches. That is why it is so important to decide what tasks you need to outsource, so you can find the right type of VA. 
I myself specialize in four major areas. Two of these areas fit together really well, but the other two are completely different. For example, I specialize in email marketing, social media marketing, and content repurposing. Social media marketing and content repurposing go hand in hand. The last area I specialize in is helping people with their WordPress websites and setting up landing pages, which are a part of email marketing. Those are my services and what I do, but I enjoy working with a specific niche of people. 
That specific niche is Christian authors, speakers, and coaches. That is something to consider when looking for the right type of virtual assistant and that's why it is important to ask yourself: " "What specific tasks are you looking to outsource to a virtual assistant? "
How many hours do you estimate you need from a virtual assistant? 
I'll be honest with you; you will be surprised at how quickly someone can get something done. But there are also VA's who work by the project rather than by the hour, and this can often be a better deal for you and the VA. So don't sell yourself short by thinking that if you have to pay by the hour, it's going to cost more. Many VA's are top notch at getting things done, and they do things twice as fast as you, because it is their area of expertise. 
Consider what is in your budget. For instance, if the VA is charging $30-$40 an hour, how many hours can you afford to pay them. But you also need to remember that you are freeing up time so you can earn more money doing what you are extremely good at as well. 
What is your preferred method of communication? 
There are lots of ways to communicate with a virtual assistant, including email, programs like Slack, program management systems like Asana, or the good old fashioned phone call. I have clients who enjoy all of those forms of communication, and I have clients who are very specific and want to talk once a week via telephone. You have to work with your preferences and what works well for you. Just make sure your VA is willing to communicate with you through your preferred method of communication. 
Not everybody likes to communicate in the same way. If you have ever been in a relationship with anyone, whether it be friendship, business relationship, spouse, girlfriend, or boyfriend, then you know communication is key. That's the same when it comes to a business relationship with a virtual assistant. Because communication is key, make sure you utilize the form of communication that works best for you.
Are there any specific characteristics that you are looking for in a virtual assistant? 
You may want the person to be extremely detail oriented. Maybe it drives you crazy if someone forgets to cross their t or dot their i. Maybe punctuation is key for you, and you need someone who is really good with grammar. Maybe their communication skills are top notch and you want them to be able to create an email that perfectly says what you want to share with your audience. Maybe you want them to have good time management skills.  
This is important for VA's to have in the first place. Most virtual assistants have great time management skills because it comes with the territory. So before beginning your search for a VA, make a list of the characteristics that your virtual assistant must have. 
These are just a few of the questions I'm sharing with you today.  If you need help thinking of more questions to ask, then grab my FREE guide, "Top 5 Questions to Ask Yourself Before Hiring a Virtual Assistant."
If you haven't joined me in our Facebook group, The Christian Business Advantage Facebook group, it is a great place to connect with other authors, speakers, and coaches.