Want to know what my least favorite area of business is?  Finances.  You might wonder why? That's how you get paid after all and aren't you in business to make money? Of course, I am, but I have major anxiety about numbers and don't trust myself most of the time.  That's why I need systems set in place to make sure that I am successful in my finances.
Affiliate Disclaimer: This post contains affiliate links. I get commissions for purchases made through links in this post. Although you won't pay any more for any purchases you make, the commissions will enable me to continue to provide free content to readers.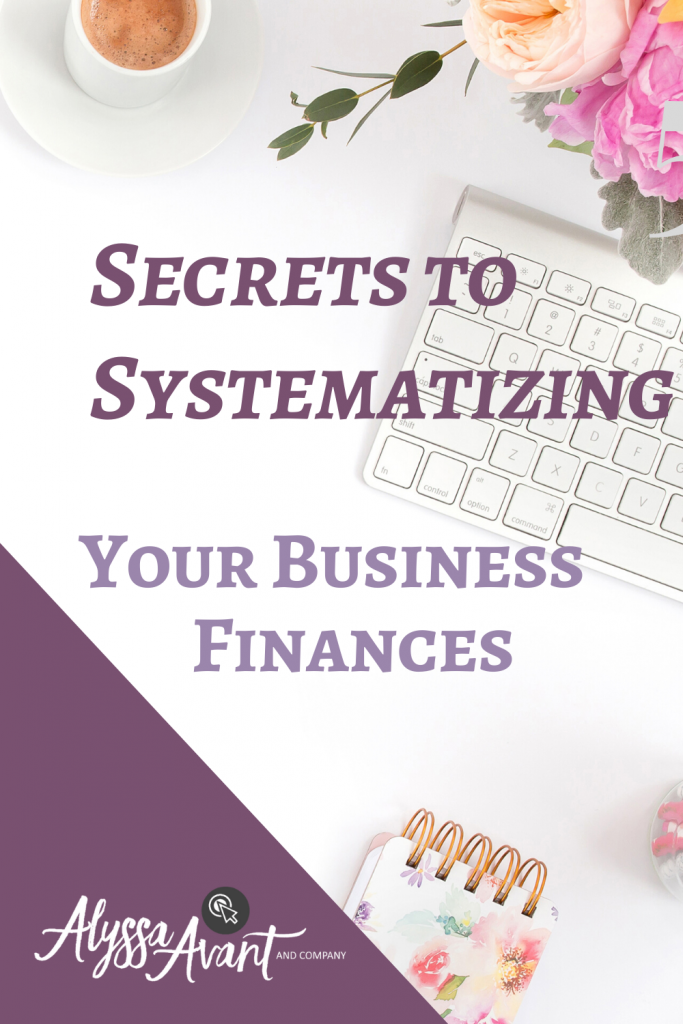 Sound familiar? I feel like I'm not the ONLY one who would rather avoid crunching numbers even if it is to help you make income.  
The good news is all of this can change and you can be successful in your finances when you take the time to put some trusted systems in place. 
Systematizing Your Business Finances
Start with your billing. Sign up for (and use) a system such as Freshbooks or Harvest, which will automate your timekeeping and produce an invoice with a single click of a button. Then put your billing day on your calendar as an unbreakable appointment. 
Log into your timekeeping app, generate your invoices, and click send. You'll be done in a jiffy. Not only that, but most billing systems automatically send follow-up messages for unpaid invoices, so you don't have to worry about tracking down those slow pays.   You can even set up recurring billing, which has truly saved me and made invoicing easier.  
For your expenses, use a single system. That might be PayPal or a dedicated credit card or even your business checking account. Whatever it is, be sure it has a reporting feature that will allow you to send monthly statements to your accountant. At the end of every month, bundle that up with your sales report and your receipts, and send it off. When tax time rolls around, you'll be sitting back with your feet up while everyone else scrambles to find documents and update their accounting system. 
If you do your own taxes (kudos to you!) then look for tools that will talk to each other easily.  I currently use Quickbooks Self-Employed which automatically pulls in transactions.  All I have to do is log in at least once a month and categorize expenses.  Then I am ready for tax time.  You can download a Quickbooks file to send to your accountant or automatically send it to TurboTax or your favorite tax software to do it yourself.  
Just putting these two simple systems in place can easily save you 10+ hours per month, but the even larger benefit is that the money work will get done. And what that will do for your cash flow is priceless.
Learn more about how I implement these systems in today's video:
Did you know there are Virtual Assistants who handle your bookkeeping for you?
Interested in hiring a Virtual Assistant?  Check out the Christian Business Advantage Directory where we match you with a perfect Virtual Assistant for you.
Interested in more videos like this one?  Check out my YouTube channel.