As a virtual assistant, having the proper tools and programs to run a business can be hard and often pretty pricey at times, but it doesn't have to be.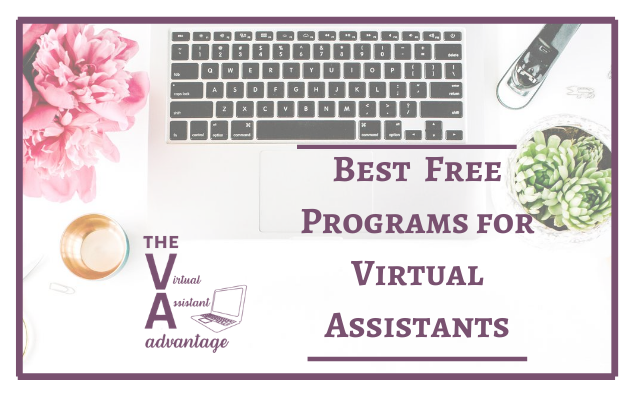 SUBSCRIBE TO THE PODCAST HERE
This post contains affiliate links, which means if you choose to make a purchase via one of the links, we will receive a commission at no extra cost to you. This helps to support the costs of running the podcast and blog.
In this episode, we talk about the best free programs for virtual assistants. I will be sharing my Top 4 favorite programs that I use every day and recommend to you no matter what your business focuses on. I share some of the best features and uses for each program.
#1:  Asana – Project Management System – Paid & Free Versions – I personally use the free version and have for a number of years.
#2:  Google Drive – Store & Share Content – Paid & Free Versions – I use the paid version because it gives me more space.  You can easily share images, files, music, audio, spreadsheets, and more.
#3:  Canva – Graphic software – Paid & Free Versions – I use the paid version here again but for a very specific reason. I share more about this on today's podcast.  The paid version runs $12.99 and is worth every penny!
#4: AcuityScheduling – Scheduling Program – Paid & Free Versions – I use the paid version here because I have a need for multiple calendars.
STAY CONNECTED
Subscribe to The Virtual Assistant Advantage podcast on your favorite podcast app.  Also, Follow Me on social media:
Join my Growing Christian Virtual Assistants Facebook group.  In the Facebook group, we chat about all things virtual assistant related and I do a weekly Facebook LIVE on topics to help you grow your business.  I'd love to have you in the group so I can get to know you!