Are you an entrepreneur who is trying to obtain a web presence as a way to promote your company or business? Then you are probably at some time or another going to, or maybe you have already, ventured into the world of blogging. Blogging, though it began as sort of a hobby for many, has turned into a profitable business for others. It is also a way to aid you in connecting with your target audience and drawing them into your websites through a new format, the blog. However one key to remember is that your website doesn't just need a blog, your website needs and up to date blog.
Utilizing a blog as a part of your company's website is crucial. Here's why:
Blogging helps to provide keyword rich content to your company's blog and website. There are many benefits to having a company blog, these include:
Branding – Having a blog gives you a place online to help establish your brand. It can help you to build a reputation with your readers that will give you a positive image. Also, it can help lead your readers to become your customers.
Fresh Content – Fresh, original content on your blog helps the search engines find you. The more often you can provide fresh content the better off you are.
SEO (Search Engine Optimization) – Search Engine Rankings are where it's at these days. You can receive higher rankings for your website by using a blog and its content to improve those rankings. We optimize your blog posts with keywords that help drive traffic to your site, increasing your search engine rankings.
More Traffic – Above all, the blog helps with your traffic as previously mentioned. Whether you want higher search engine rankings or just more customers, traffic is the way to receive both. A blog with fresh content is how to get that traffic.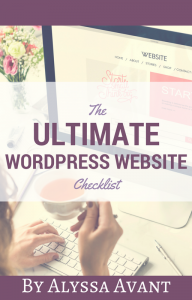 Want to know more about how to have your website be a website that lives up to the phrase, "If you build it, they WILL come"?
Download our Ultimate WordPress Website Checklist.