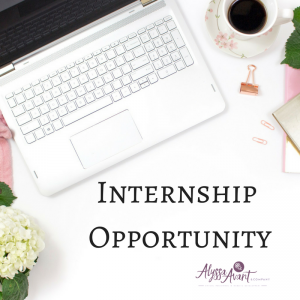 For the first time in over a year, I am offering my Virtual Assistant Internship.  This is an unpaid internship, more like a barter agreement where you will receive training in exchange for completing tasks for me, your trainer.
I am a veteran virtual assistant with almost 11 years of experience in the business.  I have trained numerous interns and aspiring virtual assistants since 2011 when I began training my very first intern.
Hear from previous women I have trained here via video testimonial.
I am excited to recruit a new VA Intern for this 10-week program.  For more information and to apply for this internship keep reading!
This Internship will begin November 1, 2018, and run until January 17, 2019, which will include 1 week off for Christmas I will be taking applications until October 28, 2018 and conducting interviews sometime on October 30.   So get your application in quickly!
Here is a list of skills that you will learn through this internship.
You will learn the following:
Choosing your niche

Setting prices

Tracking

Branding

Setting up a website

List setup and management

Marketing and promotion

Customer Service

Getting and Keeping Clients

And much more!
You will also get:
Access to the Advantage Virtual Assistant Academy through the end of September.  

Intense one-on-one training from Alyssa for the 10 weeks you intern.

24 Hour support and advice from Alyssa

Advice and access to tools, and programs that will help you as a virtual assistant.

A free education about being a virtual assistant that you can't get anywhere else!
Intern Tasks
Here are some of the tasks you will be doing during your internship:
Organizing clients in spreadsheets, and calendar

Adding clients to

Send Out Cards

Create images for social Alyssa Avant's social media

Schedule posts to social media

Creating and updating blog photos

AlyssaAvant.com

(my personal blog) and AlyssaAvantandCompany.com  

Problem solve different issues that might arise

Go through one lesson a week from Advantage Virtual Assistant Academy.

And more!