I've had people ask me, "What is an autoresponder?" Simply put, an autoresponder is a email system that automatically sends out email messages for you.  It can be programmed ahead of time to send out messages when someone opts in to your newsletter or ecourse, or when you want to set it up to send out your newsletters over time so that you don't have to go in and send out the message that given day.  Because of the magic of the autoresponder, you are able to preschedule your messages for as far ahead as you'd like, saving you time.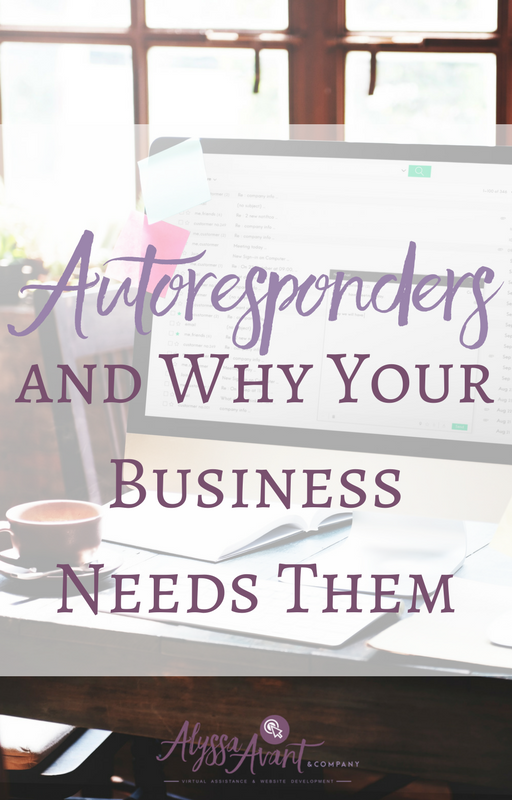 This post contains affiliate links that do give me a small commission if purchased from.
Autoresponders are great to use for:
delivering a newsletter
delivering an e-course
getting information out about your upcoming webinar
delivering an information product
following up with a client a specific number of days after your meeting
Autoresponders work their magic while you work yours doing something else.  Many years ago I would not have suggested an autoresponder or even known how to explain to you what one was, but now I use them successfully in my business and therefore realize their importance.  I would encourage you to give them a try in your business as well.  They can allow you to do so much without having to put forth a lot of effort or work multiple times.
An autoresponder is one way to work once and reap the benefits of that work again and again.  Create one set of messages and use them to email to subscribers for years to come, without having to go back into your email system weekly to mail something out to your readers.
Having an autoresponder work in your business allows you to set it up once and benefit from it hundreds, even thousands of times.
So, what options are there for autoresponders to use in your business?  My favorite autoresponder / email management system is Active Campaign, hands down.  I love its features, its ease of use, and the cost as well.  It's affordable and does everything I need it to do in my business.
There are other options out there as well, several include Aweber, Mailchimp, and ConvertKit.  An important part of any business is communication with your clients or potential clients, as well as building a list of those. An autoresponder can help you to do this, get signed up with one today.  Don't hesitate; they really aren't as scary as they sound.
The first step in getting an autoresponder going is giving away a free offer, something of value for free in exchange for a name and email address.  You do this by creating a landing page. If you're not sure what a landing page is or how to create one, contact me to see how I can help you!